Rich Chou, the Future Strikeforce Boss?

Here on BJPENN.COM we are no stranger to who Rich Chou is. He is a good friend of the Penn family, an MMA enthusiast and professional as well as the STRIKEFORCE matchmaker.
Recently, an article was put out in a publication from Guam. It was an in-depth piece on the man who keeps the wheels turning over at America's number 2 Mixed Martial Arts promotion and that man is our good friend Richard Chou.
The write up included several bits of information in regards to his credentials, upbringing and character. But what was most interesting was a quote from Strikeforce CEO Scott Coker, who said…
"Hopefully he can run Strikeforce one day and I can step down."
That is a pretty big statement and an acknowledgement of what a great asset Mr. Chou is to the Strikeforce organization. Many people often criticize Coker for not being enough like Dana White while manning the ship in the eyes of the public. Too often do the fans cry for a new face of Strikeforce to come forward and help push the promotion to the next level?
Maybe not today, maybe not tomorrow, but it sounds like BJPENN.COM's very own Rich Chou could very well be the successor to Coker's throne.
UFC Matchmaker, Joe Silva, gets a lot of credit for his matchmaking abilities. The name Joe Silva has even become a household name amongst the sports enthusiasts. But what is to be said of the recent UFC cards that he puts together? When you put them up with a Strikeforce show it almost pales in comparison to the action we see on the Showtime cards put together by Rich.
Aoki vs. Melendez, Diaz vs. Noons, Emelianenko vs. Werdum, Overeem vs. Rogers, Thomson vs. Healy, I could go on and on and on. Rich is the best in the business, rarely does a single fight on a Strikeforce card not deliver. Even if a Strikeforce fight announcement leaves you scratching your head in wonder as to why he puts fighter A against fighter B, at the end of the day, when the two warriors step into the cage, his reasoning becomes clear within the first frame of action.
That is not something you can learn, that is a gift. Rich has the goods and the knowledge to keep the good fights coming and keep the fans of MMA entertained for years to come.
Keep up the good work Rich!
Andy Irons dies en route to Hawaii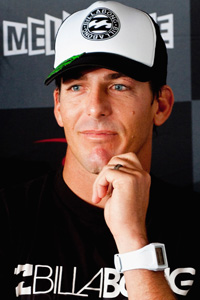 Kirston Scholz/Getty ImagesAndy Irons at the Bells Beach press conference in March.
According to sources close to the surfer, rumors have been confirmed that three-time World Champ Andy Irons has died today. The cause of death is currently unknown.
Irons missed his Round 1 and 2 heats at the Rip Curl Search Puerto Rico stop on the ASP Men's World Tour Saturday due to illness and was traveling back home to Hawaii when he passed away.
Irons was arguably the most dominant surfer of the early to mid 2000s. In addition to his world titles, Irons had 19 world tour victories and has the distinction of being the only surfer to have won at every location on the tour. But more significant than the statistics was his reputation as perhaps the only true rival nine-time World Champion Kelly Slater has ever known, and the two engaged in some of the most memorable title races in history.
Irons returned to the World Tour this year after a one-year hiatus. While his results had been up and down, a recent win at the Billabong Pro Tahiti in August signified a return to form in the kind of powerful, barreling surf in which he made his reputation.
Sometimes getting totally lost is the best way to find yourself and sometimes going into seclusion is the best way to discover that youre really not alone.
In a solo journey on foot of  870miles in , In about his 200th mile, Enson was gracious enough to drop a line after yesterday.  He's doing great.Having a powerful experience. 14days of hiking 14hours a day.sleeping outdoors and eating fruit of f trees. About a month to go.
but exhausting,proceeding, and cultivating most definitely. Hes praying for us all. And hoping we can do the same for him.
BJPENN.COM ENTERS MIXED MARTIAL ARTS NEWS ARENA
LOS ANGELES, Ca.  (May 3, 2010)  -The BJPENN.COM (www.bjpenn.com) family is pleased to formally announce it's participation in covering Mixed Martial Arts News (MMA News)  on a formal and consistent basis. With a long and rich website history this is a natural progression that has been in the works for almost 2 years and we are very excited to finally have the team and technology  in place to accomplish this goal.
Headed up by Editor/Chief Pedro Carrasco and managed by Jay Penn (JD Penn) it is our goal to provide all fighters, trainers and promotions a fair and just voice through the literary, video and audio works of our newly formed MMA News staff.  The main operations center for these efforts will be located in the HUB of all things MMA, Los Angeles Ca., but will stretch as far as the UK and beyond.
Commonly considered as the home of BJ "The Prodigy" Penn, BJPENN.COM has grown far beyond just a place for the two division UFC Champion to blog about his personal life and training regime. With regular contributors such as Joe and Dan Lauzon,  Dan and Jim Miller, Justin Buchholz, Mackens Semerzier, Urijah Faber and Matt Mitrione amongst others we have evolved from "The Home of the Prodigy" into the true home for MMA on-line.
It is the goal of our MMA News team to try and reach as large an audience as possible while providing honest and compassionate coverage of the sport we all love so much. Through fighter / trainer / insider interviews and event coverage we hope to show the rest of the MMA News world what respect, accuracy and honor  through journalism is all about. It is because we are fighter owned that we have a level of respect for the sport and it's participants that most other media outlets out there currently lack.
Please include us in all of your upcoming press tours, releases and announcements so that we can give you a powerful voice through our long established website. You will see the difference with BJPENN.COM.
About BJPENN.COM
BJPENN.COM is the largest Mixed Martial Arts Social Network on-line. With a current member count of 135,139 we are constantly growing and evolving into a bigger and better home for MMA insiders and fans alike. Member Groups, Forum, Blogs, MMA News and a 100 Channel video broadcaster (Penn Global Broadcasting) are just some of the features you will find on the website.
CONTACT:
Pedro Carrasco (MMA News): 818-397-8904 / pedro@bjpenn.com
Forward All Announcements and Press Releases to:  pedro@bjpenn.com
To advertise with us contact JD Penn: jaypenn@me.com
Guam native plans CBS Strikeforce fight card
Posted: Apr 15, 2010 1:55 PM Updated: Apr 15, 2010 7:08 PM
by Dave Delgado of
Guam – CBS Strikeforce brings you another night of fights this Sunday. Make sure to tune into KUAM-TV11 to catch the action.  KUAM Sports interviewed local boy Richard Chou, who is the matchmaker for Strikeforce, in Nashville, Tennessee, and asked him about the upcoming fights.
Chou said, "So far so good, we are expecting 10,000 people in the house this Saturday. We are featuring 3 world title fights on CBS leading off with our lightweight title fight between Gilbert 'El Nino' Melendez, who is the Strikeforce lightweight champion he will be defending his belt against Dream champion Shinya Aoki. After this last weekend with B.J. [Penn] losing a controversial decision this fight becomes that much more intriguing. I believe the winner of this fight will be the new #1 lightweight in the world. The fight was already interesting so we are looking for the #1 lightweight to come out of the fight this weekend."
He continued, "We will also feature a light heavyweight title fight between Strikeforce champion Gegard Mousasi, who will be taking on King Mo. Not too many people know about Mo yet, but he is a world-class wrestler who is one of the best athletes out there and is certainly a worthy opponent for Gegard. Gegard has been on a roll and I think he has won his last 14 fights. He has the experience and we're just expecting a great fight out here and in our main event it's our champion Jake Shields defending his belt against the legend Dan Henderson.
"What more can you say about Dan?  He's the man, he's one of the few legends that continues to fight at a high level. Jake has been finishing guys lately and every time you think Jakes going to lose and you count him out he always proves you wrong. 6 world-class athletes all very technical, all very athletic and explosive."
It's going to be a great night of fights and everyone can tune in for free on CBS on KUAM-TV11.   It will be shown on KUAM-TV11 via satellite at 2pm with a repeat at 9pm.
April 12, 2010 by admin
Filed under Familia, FokaiCombatUNit, FokaiHawaii, FokaiJapan, ForLife, GlobalGuamMMA, Onra, Sinceeversince, Special Forces, TheEffect